Do you need to know how to boost your finances? Listed below are 10 ways you can make additional income. Why not give one (or more) of them a try?
Let us know if you do try any, and most importantly, how they work out for you.
10 Ways To Boost Your Finances And Make Additional Income
Idea No.1 Gig Economy Side Hustles
What do we mean by gig economy side hustles? Well, this can be anything from car-sharing, food delivery, or offering freelance services (more on those coming soon).
Idea No.2 E-Commerce
E-commerce covers ventures such as dropshipping, buying and selling of both physical and digital products. (Check out Salehoo, a dropshipping/wholesale company where you'll find training on how to build your own online dropshipping business.)
Idea No.3 Creative Pursuits
Showcase your artistic and creative side through options such as freelance writing, graphic design, and photography. Discover the potential for monetising things you've always thought of as your hobbies. For example, many people have very tight budgets for their weddings. If you take good photos, you could offer a cheap wedding photography service. This will still bring you some very nice income! Babies, pets, pregnant women, engaged couples – these are all potential customers for your photo shoots.
Idea No.4 Rental Income – This Can Really Bump Up Your Finances!
Do you have any spare rooms, or additional accommodation such as an annexe or summerhouse? You could start renting out your spaces on Airbnb. This could be very lucrative if you live close to a city, pretty countryside, or an area of outstanding beauty. Or if you're in a University city, this could be a great way to boost those finances right up, and you'll be more or less guaranteed income for several months at a time! You'll obviously need to do some research into what's involved. Start with online research and then contacting the relevant authorities, such as your local council.
Idea No.5 Consulting And/Or Coaching
This can cover so many different fields, from fitness or nutrition training, to business consulting or mindset coaching. If you have a skill, someone out there needs it. Relatively easy to set up, as long as you do your research to see what people are looking for, then your main emphasis will be on marketing your business.
Idea No.6 Pet Care & Associated Services
If you're an animal lover, you could offer dog-walking/sitting services, boarding (if you have space and can get permission), or pet grooming. Your council will advise what insurances you'll need. (Gill was previously registered for dog-sitting and had to register with the district council, as well as obtaining the necessary insurance.) There is always demand for pet-related services and it can be quite lucrative, depending on how much time you can dedicate to it.
Idea No.7 Handy-Person & Home Improvement Services
If you know how to wield a hammer or you're a dab hand at painting and decorating, perhaps you can use your talents to offer these services to the public. Doing a good job, being reliable, and word of mouth are your best ways to advertise. Start small and work hard, and you could even end up growing a business from your side hustle.
Idea No.8 Language & Translation Services, Plus Online Tutoring
There is always a market for people wanting (or needing) to learn a new language, so if this is a skill you possess, teaching it could work for you. You could also offer translation services to authors, companies, retailers – basically, anyone who wants to reach non-English speakers, as using online tools can give varied and often poor results.
If you have relevant qualifications in other subjects, perhaps Maths or English, you could teach them online to foreign students. There are various websites you can approach to find out how to get started. You can either work for an online agency or set up for yourself, but starting with an agency can show you exactly what's involved and what your time commitment will be.
Idea No. 9 Personal Growth & Success Coaching
You could design and sell courses, books, e-books, or do one-to-one coaching on a wide variety of subjects. There's a lot of demand for these services and you may find that once you get involved, it could eventually become your full-time career.
Idea No.10 Marketing & Social Media Management
If you're a whizz at marketing, there are many opportunities for you to make extra income, whether that's on or offline. Small businesses and retailers, the self-employed, people just starting out in their new companies – these could all benefit from your marketing skills.
If you can combine your skills with online marketing, you could offer social media management to online companies. Again, individuals and smaller businesses will be – and are – looking for your services.
So There You Have It, How To Boost Your Finances And 10 Ways To Do It!
We hope you find it useful and would appreciate your feedback. There'll be more ways to make money coming very soon.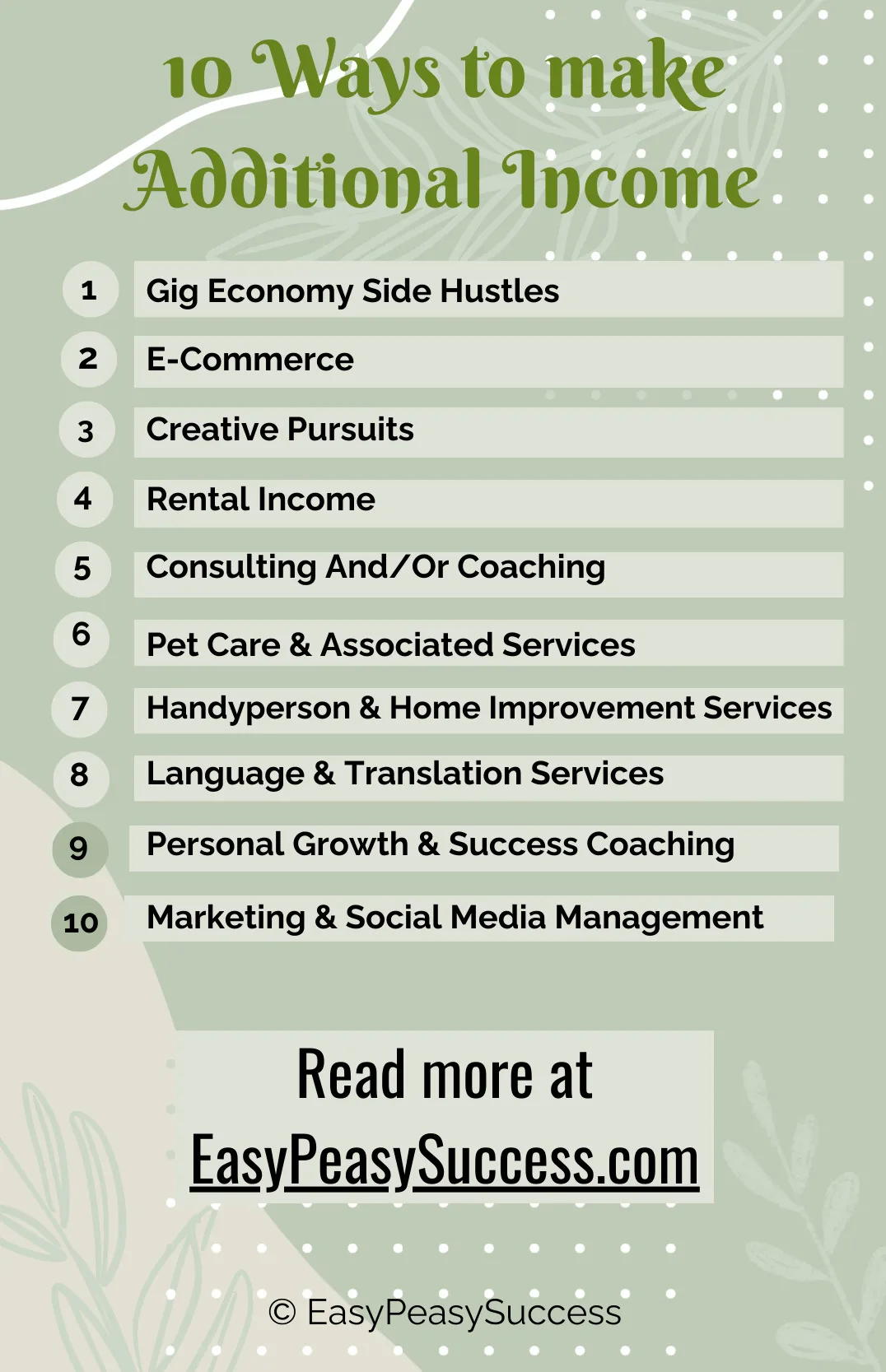 Disclaimer
The information provided here is for educational/entertainment purposes and you should always do your own due diligence before joining any companies or opportunities.
This post contains affiliate links. Please check our full disclaimers on how this may affect you.