Say hello to the new Hydrogel Face Mask, an ultra-hydrating skin treatment from Tropic! You will love this revitalising treatment, designed to intensely hydrate, plump and soothe your skin.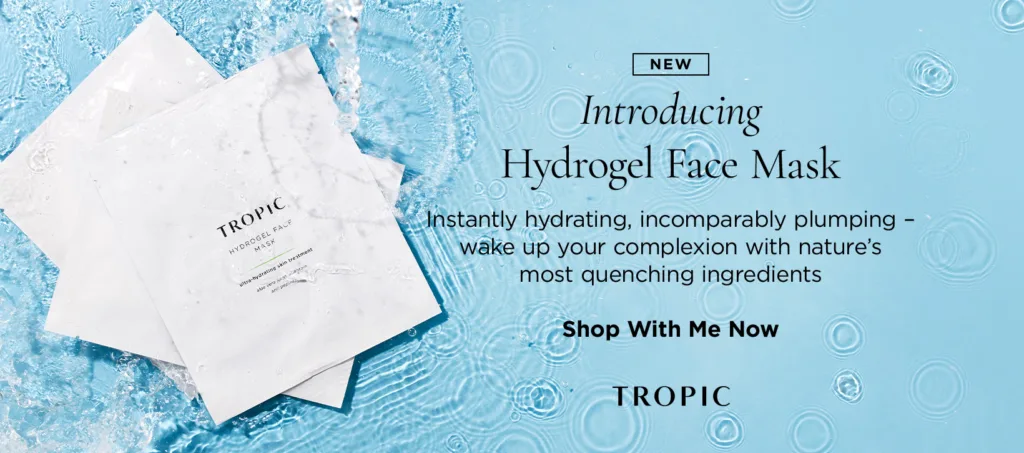 Product Details for the Hydrogel Face Mask
(Product information obtained from Tropic website, as well as Ambassador* knowledge.)
These masks contain a concentrated solid serum using some of nature's most quenching ingredients. Tropic spent three years developing and testing to make sure the masks fit comfortably and snugly against your face.
Each mask creates a barrier on your skin, trapping moisture and allowing the active ingredients to absorb more quickly and deeply. This results in a visibly plumper and dewier complexion in just 20 minutes.
What Does It Do and How Does It Work?
These revitalising masks are supercharged with collagen-enhancing plant peptides, a complex of Allantoin and Aloe Vera juice. They encourage your cells to renew themselves, plumping out wrinkles, smoothing fine lines, and refreshing tired skin.
Tropic's commitment to help create a greener world means they are dedicated to keeping beauty products out of landfill, so these Hydrogel Face Masks are biodegradable. After use, simply pop them into your food waste or compost bin.
Additionally, the sachets and films are 100% recyclable. You can return them to Tropic by contacting the team, or take them to your local recycling collection point by using an online recycling centre locator.
Ingredients of the Hydrogel Face Mask In More Detail
As mentioned above, the main ingredients are the plant peptides Aloe Vera juice and Allantoin. Plant peptides can soften lines, tighten loose skin and repair the skin barrier. They can also improve elasticity and clarity, and smooth texture. Aloe vera juice hydrates, cools, calms, and soothes skin, instantly perking up complexions.
Meanwhile, Allantoin, is an effective multi-functional moisturiser. This soothing botanical extract hydrates skin, reduces itchiness, and improves overall texture. It's also been known to help heal minor injuries.
Full Ingredient List From Website
Purified water, plant Glycerin, humectant, Red Algae Extract, humectant, Locust Bean Gum, plant-derived humectants, Corn Sugar gum, cellulose gum, caster sugar, Allantoin, Aloe Vera Leaf juice, vitamin E, biopeptide, coconut-derived emollient, film-forming agent, gentle preservatives, chelating agent, buffering agents.
About Tropic Ingredients
Tropic use only the finest natural, sustainably sourced ingredients, with no artificial preservatives in sight. So that's everything you need for results, and nothing you don't.
How To Use the Hydrogel Face Mask
Cleanse your skin, then tear the pouch open and carefully remove both parts of the mask.
Peel the transparent film away, place on your face, position both parts carefully, and then remove the white film.
Then just sit back and relax for 20-30 minutes!
Alternatively, you can use this treatment overnight to reveal super soft, luminous skin by morning.
Price
At the time of writing, the Hydrogel Face Mask is priced at £8. Save £4 when ordering a pack of 3 for just £20.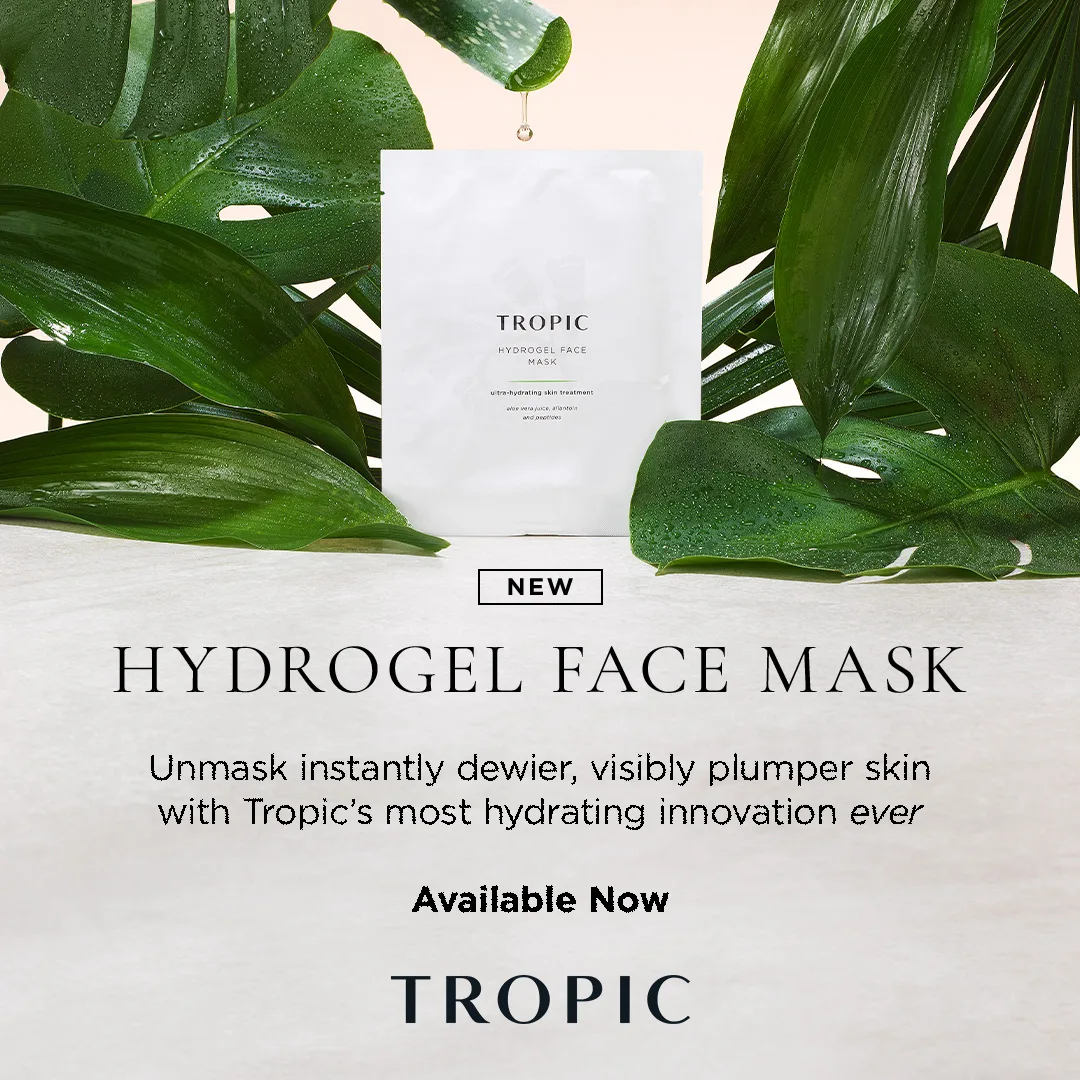 Also Available – Hydrogel Eye Mask
This range also includes an eye mask with the same ingredients as above, plus Red Algae extract. These masks intensely nourish the eye area, brightening it instantly. They also replenish moisture, combat dark circles and puffiness, and reduce fine lines. Enjoy this product for just £15 for a pack of 5 pairs of masks.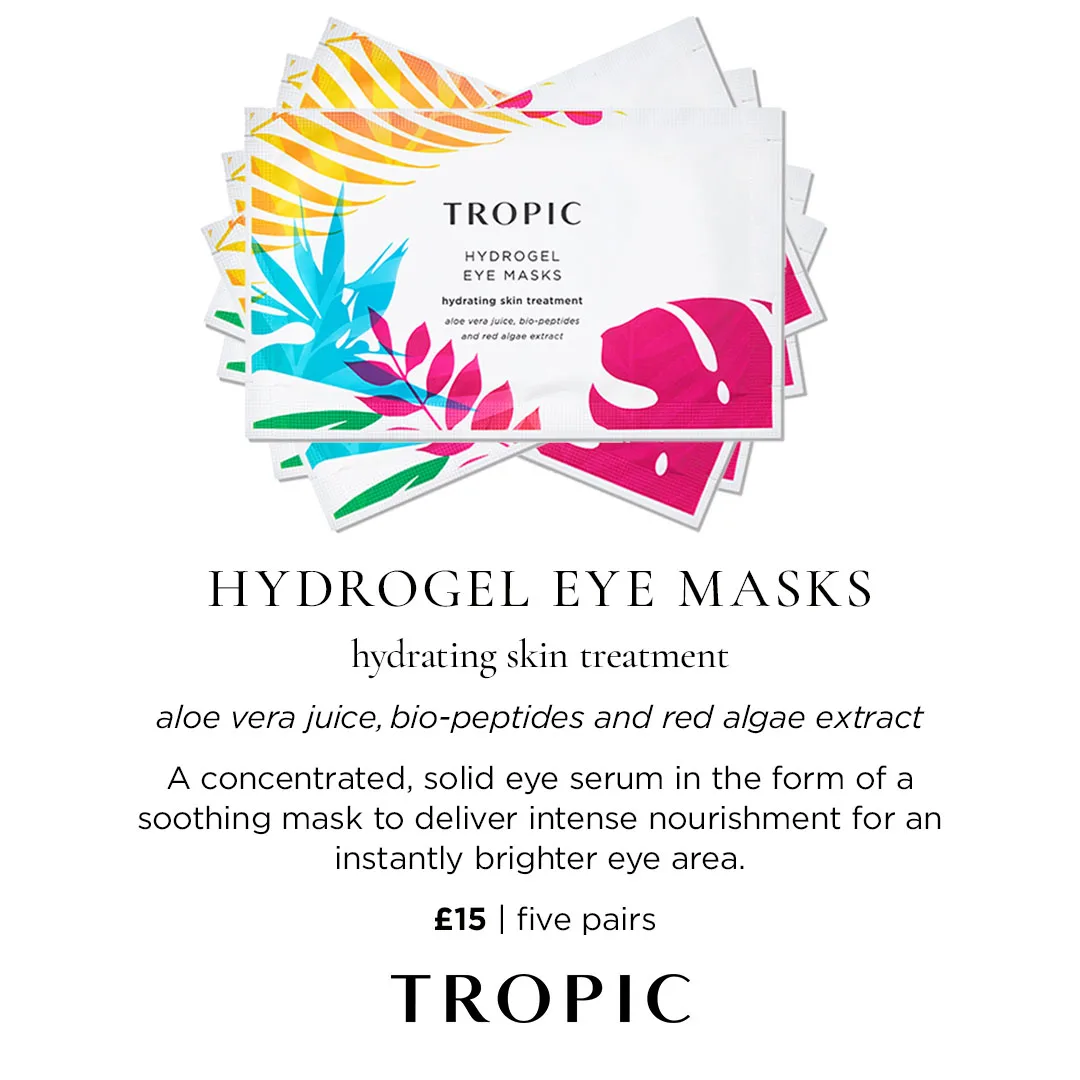 For more information on Tropic products, or to find out which ones are best for your particular skin type, please contact Gill here.
Disclaimer
*As an Ambassador for Tropic Skincare, Gill receives commission on all products purchased via her link, at no extra cost to customers.
This post contains affiliate links – please read our disclaimer to see how this could affect you.