Reading a review of a programme before you consider joining is an important step for all digital entrepreneurs, especially those who are new to working online, so here is our own review of the John Thornhill Ambassador Programme.
Any Review Should Always Tell You Who Is Behind a Programme, So Who is John Thornhill?
John Thornhill is a successful and well-respected online marketer and creator. If you've been in the online business arena for a while you may have come across him, as he's been around for over a decade. He started as an eBay seller before going on to create his first digital product. This led to his own successful online empire, where he's since helped over 3000 people to build their own online businesses and achieve their goals.
He's also a Platinum seller on Clickbank, and his product is continuously one of the best-performing programmes to promote on the site.
John's ethos is perseverance and hard work. The 'John Thornhill Ambassador Programme' he's created isn't a get-rich-quick scheme, nor does he imply it will be. It can, however, provide a quite substantial return – if you put the work in!
What is the John Thornhill Affiliate Programme?
As mentioned above, this is not a get-rich-quick scheme. It's a comprehensive system that provides all the tools and resources you need to help you build a profitable online business of your own. It works for both beginners and experienced marketers. If you already have an online business, this could help take it to another level.
For beginners, please understand this programme requires a significant commitment from you in time and effort. If you're not prepared to put in the work, then the cost will probably prove a big barrier for you (in which case, you're possibly not best suited to this kind of opportunity). We'll discuss the pros and cons shortly.
What Does the Programme Cover? Comprehensive Review
As we've already said, this programme* is comprehensive and you'll learn how to do the following.
Build your own email list (which you fully own) whilst promoting JT's products – there is a generous 50/50 profit share for sales referrals you make
How to build your own sales funnel plus the opportunity to use John's own proven funnels (which have already generated millions in sales), and also how to drive traffic to your site
You'll be able to use your own high-ticket webinar funnel to promote John's programmes
Access to a community of successful entrepreneurs: experienced people who can provide support and guidance
Access to a wide variety of the tools and resources necessary to build your business, with ongoing support and updates
John Thornhill is closely involved with his ambassadors and provides mentorship within the community
There's a free 7-day trial available, so you can see up-front what's involved
We like the way John has structured the modules within the programme. You'll learn the basics of online marketing, followed by training on everything listed above (including setting up your own website). Then you'll delve into topics such as email marketing, social media marketing, traffic, and converting that traffic into sales.
This is followed by advanced training where you're taught how to level up your business.
Are There Any Negatives? A Review Should Always Be Honest, So Here Goes
With any programme (as with any traditional job), there will always be a downside, and/or compromises. The good news is that in this instance, during our review process we didn't find many negatives!
The first negative probably applies more to newer online businesses than established ones, and that's the cost. The programme isn't cheap, so if you're skint to start with, this may not be for you. However, if you follow exactly what John says and commit to the process, you could easily cover the membership cost in your first month. But – and it's a big but 😉 – nobody can guarantee this. We are all unique. We all work in completely different ways, and your efforts won't be the same as the next person's.
The other negative, and this depends on your own circumstances, is the time commitment. We won't lie (because we promised you an honest review), but it is significant – so if you want an easy life, you can step away right now because this definitely isn't for you. It's sold as a 12-month programme/course, but you can do it at your own pace and complete it as quickly as you want to/are able to. (Technically that's a pro, rather than a con.)
Finally, success cannot be guaranteed, but that's true for anything we do in life. Many factors contribute to our success and these are personal to us; we are responsible for our own outcomes.
Some Things to Consider if You're Thinking About Joining this Programme
You must be prepared to invest in yourself and your business, because the programme can be classed as expensive. But bear in mind the return on that investment can be significant: you'll be promoting high-ticket products.
You also have to be committed to doing the work, because as we've already discussed, it requires hard work and an investment of your time. However, it's worth doing if you're serious about building your own successful online business.
Don't be afraid to ask for help, and take advantage of the resources available to you. Everyone within the programme wants you to succeed.
Most of all, be persistent, and be patient. It takes time to build any business, whether that's on or offline; success doesn't happen overnight. But given time, hard work, and dedication, you will achieve your goals.
How About Reviews from Others Who Have Joined this Programme?
John Thornhill states that in excess of 96% of his members complete the full programme. That's a phenomenal number, when you consider that most people will join a programme and quit long before the end.
Some of the success stories we've seen include these examples:
SC – able to leave her job to become a full-time online entrepreneur after completing the programme
SJ – made $100,000+ in her first year as an ambassador for the programme
MB – upscaled his business from $10,000 to over $50,000 per month after joining this programme
If you click on the free 7-day trial link and scroll almost to the end (although we'd recommend reading it all, there's a lot of info on that page), you'll see a few examples of how much some people are making. Definitely worth a look!
Refund Policy
The programme is backed by a 60-day, no questions asked, money-back guarantee, which we believe to be extremely generous. So if you sign up and you're not satisfied, for whatever reason, you can request a refund. (This is done by emailing the programme admin team.)
Other Things to Consider
You'll have the opportunity to earn by promoting this business as there's an affiliate/partnership programme available (see disclaimer at bottom). All you'll need is a Clickbank account and some kind of auto-responder, to enable you to build your own email list. You'll learn all about that inside the programme, so it's definitely an 'earn as you learn', win-win situation.
Final Thoughts
If you're prepared to do the work, and you're serious about building your online business, then we'd highly recommend the John Thornhill Ambassador Programme.
Investing in your future is one of the most worthwhile things you can do, for yourself, your business, and the people around you. If you take the leap and join, please let us know – and most importantly, keep us updated on your progress!
*This isn't John Thornhill's only programme/product. For instance if you wish to learn how to create products and services that your target audience will appreciate and love (and be willing/eager to purchase), or how to choose a profitable niche for your business, he's got you covered! We'll discuss his other programmes in future articles.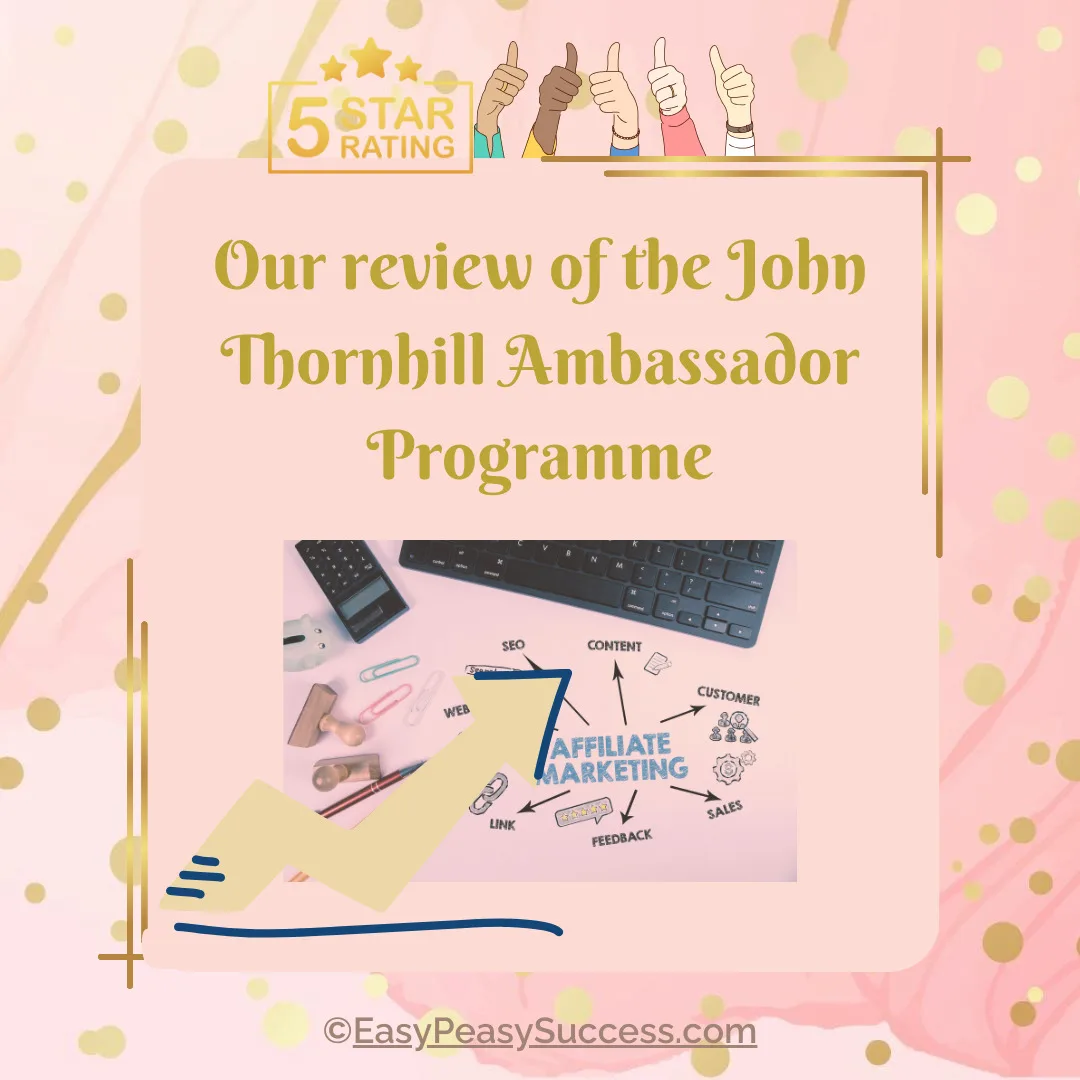 Disclaimer
This post contains affiliate links. Please refer to our disclaimer regarding our use of these and how they may affect you.
All views and opinions are our own. We are not financial advisors and therefore cannot give financial advice. As always, please do your own due diligence before joining any programmes.