Firstly, what is Zilch? Zilch is a virtual card that allows you to 'buy now, pay later' at thousands of retailers. It can help you manage your finances in 3 ways: by spreading the cost of your purchases, rewarding you with points when you pay in full, and could also help build your credit score.
How Zilch Works
As mentioned above, Zilch is a virtual card. It links to your bank account and works at any retailer where the Mastercard sign is displayed (including online stores like Amazon and Ali Express). The app is free to download, works on most types of mobile, and can be used with Apple Pay, Samsung Pay, and G Pay for Google devices. It's a 'tap and pay' app, so it's easy to use.
Some stores charge a fee of up to £3.00 when you use your card, while others are free – in these cases, the stores pay the company a commission. Additionally, there are thousands of online stores with zero fees. All you need to do is enable your card, then you can use it.
Spread Your Payments With Zilch
Because Zilch is a Mastercard, you can pay over time for a small fee. As with most borrowing, interest is charged – please refer to the Zilch website for current rates.
Pay In Full And Earn Rewards Of Up To 5%
Get up to 5% back in Zilch Rewards instantly when you pay in full. Use your Rewards towards your next purchase or save them up for something special. In the past* year, the company rewarded their customers with over £5.8M in Zilch Rewards.
Get Zilch Rewards For Each Friend You Refer
Let your friends know about Zilch. If they sign up, they'll get Reward points. Once they've made their first purchase then you'll get some, too. Just send them your unique referral link so they can sign up. Available to UK residents age 18+ only (there is also a US site).
Please note, rewards do vary from time to time, so refer to the site for details after you sign up.
Why Pay Over 6 Weeks?
It's ideal for bigger buys where you need a little extra time to spread the cost. And it's simple.
At checkout you'll pay between 25% and 50% of your purchase price
The remaining balance is split into 3 instalments.
Make a payment every 2 weeks so that in 6 weeks, you're done.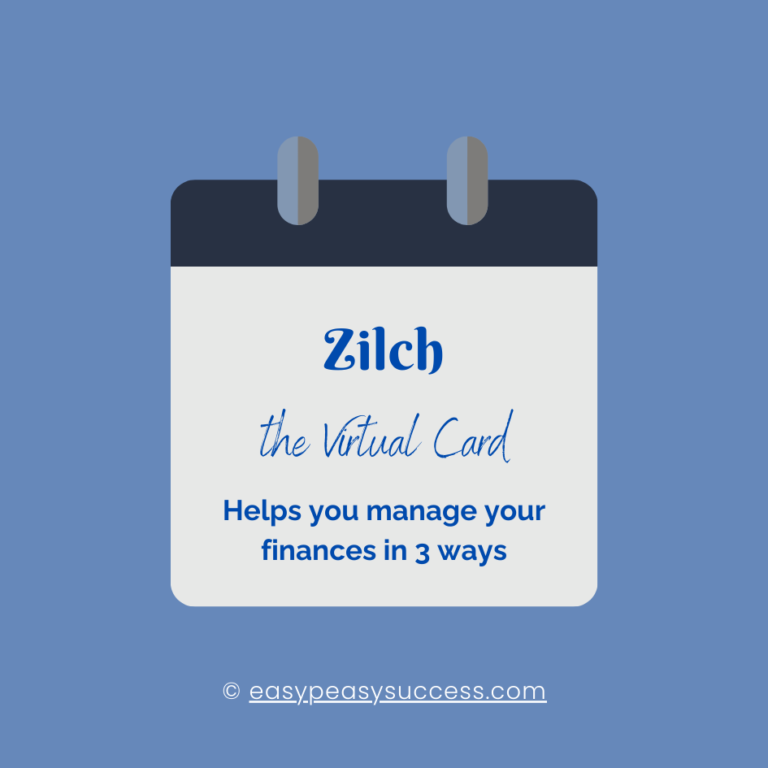 Notes & Benefits – Information From Company Website
Big deals: save money at your favourite stores with Zilch voucher codes. 
Snooze instalments. Need more time to pay? Tap Snooze and you'll get four extra days to pay.
Manage payments. Get a clear history of all your purchases with one tap and track all your ongoing payments.
Get the help you need. Dedicated Customer Support team on hand to answer all your questions.
Spend responsibly, spending more than you can afford could seriously affect your financial status. Credit subject to status, 18+, UK residents only. T&Cs apply.
*At time of writing
Disclaimer
Please note, we are not financial experts. The information provided here is for educational/entertainment purposes only. Please consult a qualified professional before making financial decisions.
This post contains affiliate links. Please refer to our disclaimers for information on how this may affect you.