Are you thinking of starting your own business? If so, there are some important questions you need to ask yourself!
If you are looking to start a new business, Congratulations! It's an exciting venture that can be both rewarding and challenging. But before you take the plunge you need to ensure you're setting yourself up for success by asking yourself the following questions.
What's Your New Business Niche?
What kind of business do you want to start? Do you have a specific product or service in mind? Are you looking to become an affiliate for an existing business? Answering these questions will help you determine your niche and identify a target market.
How Much Will It Cost?
Starting a business can be costly, so it's important to understand your startup costs and plan accordingly. Consider the cost of the product or service you're offering, the cost of supplies and materials, and any additional fees associated with running a business.
Do You Have a Plan?
Having a solid business plan is essential for any business. You should have a clear idea of what your goals are and how you plan to achieve them. Also make sure you have a timeline for launching your business and define any milestones you want to reach.
Have You Done Your Research?
Doing your research is key to understanding the market and gaining insights into your target audience. Conduct surveys and focus groups to get feedback on your product or service and then use the data to refine your strategy.
Make sure you understand your niche, plan your costs, create a plan, and finally, do your research: doing so will help you set yourself up for success.
Get Help For Your Business
There are numerous ways to access free help when starting your business. The Gov.UK website has masses of information on how to choose your business status, the laws surrounding limited companies, etc etc. Be sure to check it out if you're going ahead. Then there are Growth Hubs which exist in many areas (for instance in the north east there's the North East Growth Hub). They are full of guidance on all areas of running a business and can provide invaluable advice. You can also attend events where you'll make contacts – ideal for providing support and building a network. Check out your own areas to see which business organisations exist, where you can go to for help.
Finally
Make sure you enjoy the process. Yes, running your own business can be difficult and full of ups and downs, and we all encounter problems along the way. But ultimately, it can give you the most amazing lifestyle and sense of achievement when you know you've finally done it!
Let us know your business goals in the comments below and link your business, let everyone see what it's all about.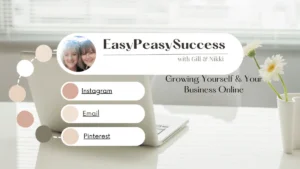 Suggested reading: 6 Great Reasons to Start Your Own Online Business