*This article does not contain affiliate links*
Last week we began a new venture – our FOREX Trading journey!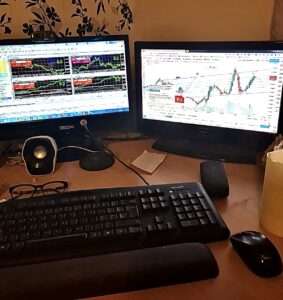 We have wanted to get involved with trading for some time now and have dabbled with it in the past, but never really got very far. Probably because we didn't learn how to do it properly.
Around four years ago, we looked at joining a FOREX training academy but didn't. Oh, how we wish we had, now that we're seeing the results of some of the guys and gals we know who are already members!
Why now?
The past couple of weeks, we spent a lot of time looking into the same academy. We decided we would give it a go, spurred on by friends who are already members and trading successfully. For some, it's now replaced their full-time income – in many instances, within one year!
A lot (if not the majority) of people who try FOREX trading lose money and just give up. This is mostly because they don't have a proper strategy in place to minimise losses. What impressed us with this academy is that their members have in excess of an 80% success rate. Their strategy is to never trade with more than 1% of the value of their trading balance. This minimises the risk of losing all their money. Using compounding to grow their accounts can produce amazing results after just one year!*
Progress reporting!
We will be sharing our results once we get going, starting with our dummy account. We are not allowed to share any earnings we make (no-one should really be making financial claims) but we will share our results with regards to trade wins and losses. We'll let you see how many PIPS we make (or don't make!) and whether we've had a good – or bad – trading day!
There is so much to learn and we are sure that at times we'll both be mind blown (we already are, haha!) – nevertheless we are very excited to get going! The plan is to do at least 100 trades on our dummy account before we attempt a real life trade.
Disclaimer
*Please note, income from trading is not guaranteed. We are not financial advisors and are learning how to trade with experts. Should you wish to begin trading yourself, we would recommend finding people who can teach you. Always, always begin with a dummy account so you're not 'playing' with, or risking, your own real money.