Yep, we're celebrating our 100th blog post here at EasyPeasySuccess! It certainly doesn't feel real, after the trials and tribulations we've both been through.😊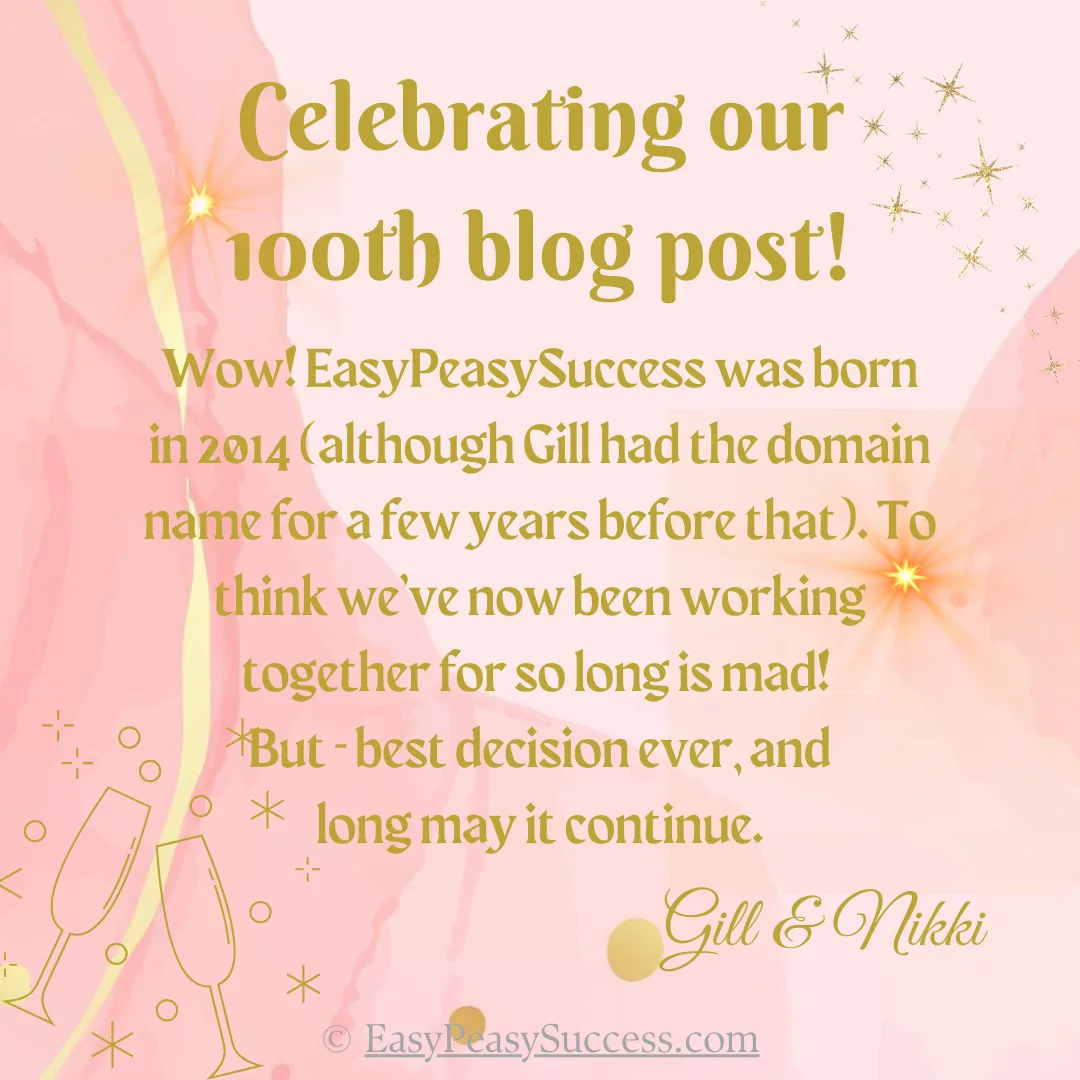 A little story … EasyPeasySuccess was created and the domain purchased in 2011. At the time, we were both working full-time and 'dabbling' online. Mostly we were losing money (apart from with matched betting, which was very lucrative for us both). However, we were also learning some great new skills.
A Few Years Later
Fast forward a few years and we began working together. We've had many problems, as most people do. For the past 3 years or so, ill health and family issues/commitments kept us from actually doing much work on the 'company'. Earlier this year, Google effectively blocked our site 🙄 and it took the best part of 3 months to finally get it up and running properly again. We turned a negative into a positive and took the opportunity to completely redesign the site.
The website has undergone many changes throughout the years, but we're finally in a place where we're happy with how it looks and operates. And we hope that you find something to interest you here, too! 😊
Celebrating, But …
We may not have a huge following, but we do have some very loyal friends and followers, and we are extremely grateful for each and every one of you, so thank you! 👏
Due to an issue with deleted backups on our form-hosting site (grrrr!) we no longer have access to the majority of our subscriber details. Big problem, when we've spent time trying to build our list, but sh*t happens as the saying goes! (We should add that no subscriber personal details were compromised because of this problem.)
If you did subscribe at any point can you please drop us a message so that we can update our records? (Especially if you downloaded our free Essential Oils e-book) Thanks in advance.
If you haven't subscribed, you can find details on our newsletter sign-up form here.
Thanks for being here.
Gill & Nikki